Social Communication Portable A-Frame Sign
$800.00
Think of the child who is often sitting alone during recess on a bench. It can be the same child or maybe you have a rotation of multiple students who at any given day might feel alone in the playground. This often happens with children labeled as "shy" or a "loner". This often also happens with Autistic, introverted, or shy children who may struggle with the lack os structure during recess. This can also happen to any kid just having a tough day.
Wouldn't it be wonderful to have a set of questions and topics next to this bench that that peers could use as guides to communicate and find a common interest? Finding shared interest is so important in building relationships! This is what this board is designed to do.
Introducing the Social Communication Portable A-Frame Sign: A tool designed to foster meaningful conversations and connections among elementary school students during recess. Ideal for children who may struggle with initiating social interactions, such as those who are shy, autistic, or simply having a tough day, our A-Frame sign is here to create a more inclusive and supportive playground environment.
Our Social Communication Portable A-Frame Sign features a carefully curated selection of conversation starters and engaging topics that help students find shared interests and build relationships. By providing a structured and guided approach to communication, this innovative sign can be a game-changer for students who often find themselves sitting alone on the bench during recess.
Built with durability and convenience in mind, the A-Frame sign is portable and easy to set up in any school playground. Its vibrant and eye-catching design invites children to engage with the conversation prompts, breaking the ice and bridging the gap between students who might not have otherwise connected. It includes question prompts to help kids connect and build relationships.
Key features and benefits of the Social Communication Portable A-Frame Sign include:
Fosters inclusive and supportive school environments
Promotes meaningful connections between students with diverse communication abilities
Features conversation starters and engaging topics to encourage social interaction
Portable, easy to set up, and designed for use in school playgrounds
Ideal for shy, autistic, or introverted children, or those simply having a tough day
Unlock the potential for greater understanding, empathy, and friendship among your students with the Social Communication Portable A-Frame Sign. Help every child feel included and valued in their school community by facilitating meaningful interactions and lasting connections.
Any staff member who recognizes the value of promoting inclusive communication and fostering positive social interactions among students could advocate for the acquisition of this product.
The professionals in a school who would likely be most interested in purchasing the Social Communication Portable A-Frame Sign include:
School Counselors: As advocates for students' emotional and social well-being, school counselors see the value in a tool that promotes inclusive communication and helps students build connections during recess.
Special Education Teachers: These professionals work closely with students who have diverse communication needs, and they appreciate a tool that can support their students' social interactions and encourage peer connections in the playground.
School Psychologists: School psychologists often work to improve the overall social climate of a school, so they are interested in a product that fosters positive social interactions and supports the emotional well-being of all students.
Principals and School Administrators: As decision-makers for the school, principals and administrators are interested in investing in a product that promotes an inclusive and supportive environment, contributing to a positive school climate and enhancing students' overall experience.
Classroom Teachers: Teachers who are aware of their students' social struggles during recess might be interested in advocating for the purchase of the A-Frame Sign to support their students in building connections with their peers.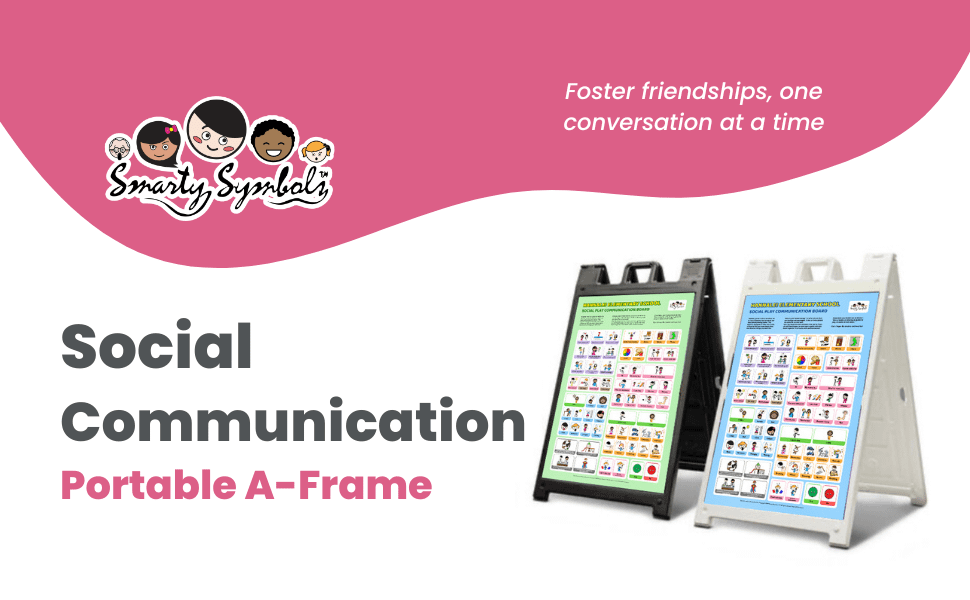 Description
ABOUT THE MATERIAL:
The premium A-Frame graphic is made from high-quality, durable materials that ensure long-lasting performance. The graphic slides in and out of the A-Frame effortlessly, thanks to the secure tabs located on the sides of the frame.  Each side of the A-Frame sign includes a slightly different graphics, which includes slightly different engaging questions for childrens in elementary schools.
GRAPHICS on this PRODUCT:
Each side of this product includes 2 different designs.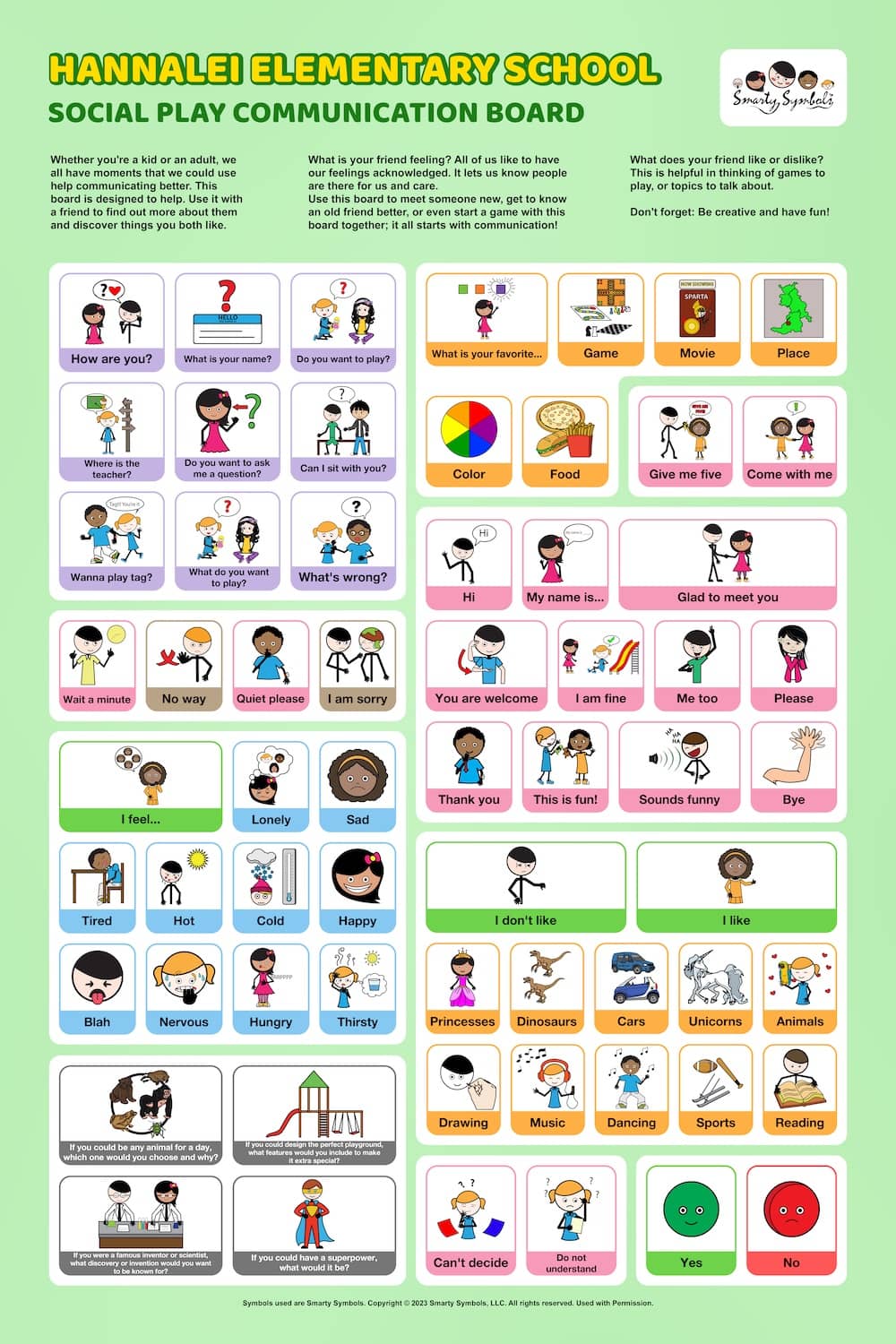 HOW TO ORDER:
Complete payment: Pay directly on the website using our secure payment system or submit a purchase order.
Customization details: Each A-Frame Sign is customized with the school name. Once payment is completed, a member of our team will contact you to gather additional customization details, such as school or clinic name.
Design process: Our team will begin the design process once we receive the payment or purchase order. We will create a PDF proof to include the school name and submit it to you for approval or modifications.
Proof approval: We will not begin production until you have approved the proof, ensuring that you are satisfied with the design.
Manufacturing & shipping: Once the design is approved, we will manufacture the boards and ship them. Shipping is free to all continental US and Canada.
Timeline: The design process typically takes 4 to 5 days, manufacturing takes about 4 days, and shipping time varies depending on your location.