School Playground Communication Board
$1,200.00 – $3,040.00
Introducing the School Playground Communication Board, a tool designed to empower and engage elementary school students from kindergarten through 5th grade. This comprehensive board features a total of 78 words, complete with letters and numbers, tailored to facilitate communication during recess and outdoor activities.
Specifically crafted with students and teachers in mind, the instructions on this board provide clear guidance on how to utilize the communication tool effectively. The versatile design of the School Playground Communication Board ensures inclusivity and accessibility, catering to the diverse needs of students in elementary school settings.
Available in both English and bilingual (English and Spanish) options, this innovative board promotes language learning and helps students develop essential communication skills, regardless of their language background. Whether it's for social interaction, communication or educational purposes, the School Playground Communication Board is an indispensable resource for creating an inclusive and dynamic playground environment.
Bring the power of effective communication and language learning to your school's playground with the School Playground Communication Board. Experience the difference this essential tool can make in fostering positive social interactions and promoting an inclusive atmosphere for all students. Order your customizable School Playground Communication Board today and watch your students thrive!
Features:
78 carefully selected words, including letters and numbers, to support communication in the playground setting.
Designed specifically for elementary school students, ranging from kindergarten to 5th grade.
Clear and easy-to-follow instructions tailored for both students and teachers.
Promotes inclusive communication and social interaction among diverse student populations.
Available in English or bilingual (English and Spanish) options, catering to the linguistic needs of your school community.
Encourages language learning and development of essential communication skills.
Customizable to suit your school's unique requirements and preferences.
Made from durable and weather-resistant materials, ensuring long-lasting performance in various outdoor conditions.
Can be mounted on a variety of surfaces, such as walls, fences, or posts, for easy accessibility.
High-quality, visually appealing design that complements any school playground environment.
Description
These boards are designed specifically for outdoor areas of schools. We have included vocabulary words that are more pertinent to this location.
Plastic: Durable plastic signs printed with UV ink on  or 6MM PVC plastic (sintra). Long-lasting signs for indoor or outdoor use! Estimated Lifespan:5+ years with proper placement and care. Our plastic boards can be placed on wood back post or attached to fences with zip ties or other methods.
Wooden: Weather resistant wooden signs printed using a four-color UV printing process on high-density fiberboard. Four color process, eco-friendly, weather, fade and abrasion resistant UV ink. .5" thick (about the thickness of 127 sheets of copy paper)
Aluminum: Made from 3mm aluminum sheets sandwiching a solid polyethylene core, our aluminum signs are weather-resistant and perfect for water activity environments. They are printed with eco-friendly, weather, fade, and abrasion-resistant UV ink, and an optional extra UV protection glossy layer can be added for further protection.
Estimated Lifespan:5+ years with proper placement and care
What text is available on those boards?
Teachers: Let's help normalize the use of this communication board. Children can learn new vocabulary, combine tapping on images to make phrases, and use it to interact with you and their peers. If you are concerned about your student's speech and language, chat with the speech-language pathologist.Maestros: Ayudemos a normalizar el uso de este tablero de comunicación. Los niños pueden aprender vocabulario nuevo, combinar el toque en las imágenes para formar frases y usarlo para interactuar con usted y sus compañeros.
Kids: This is a board that can be used to communicate with your friends. Point to the picture to show what you mean. When a friend points to it, you can read it outloud and respond using your speech or by pointing to another picture.
Niños: este es un tablero que se puede usar para comunicarse con tus amigos. Señale la imagen para mostrar lo que quiere decir. Cuando un amigo lo señala, puedes leerlo en voz alta y responder usando tu voz o señalando otra imagen.
Be creative! Have fun! How many different ways of using symbols to communicate can you think of? Invite new friends to play or join in a play with a new friend. All forms of communication matter!
¡Ser creativo! ¡Diviértete! ¿Cuántas maneras diferentes de usar símbolos para comunicarse se te ocurren? Invita a nuevos amigos a jugar o únete a un juego con un nuevo amigo. ¡Todas las formas de comunicación importan!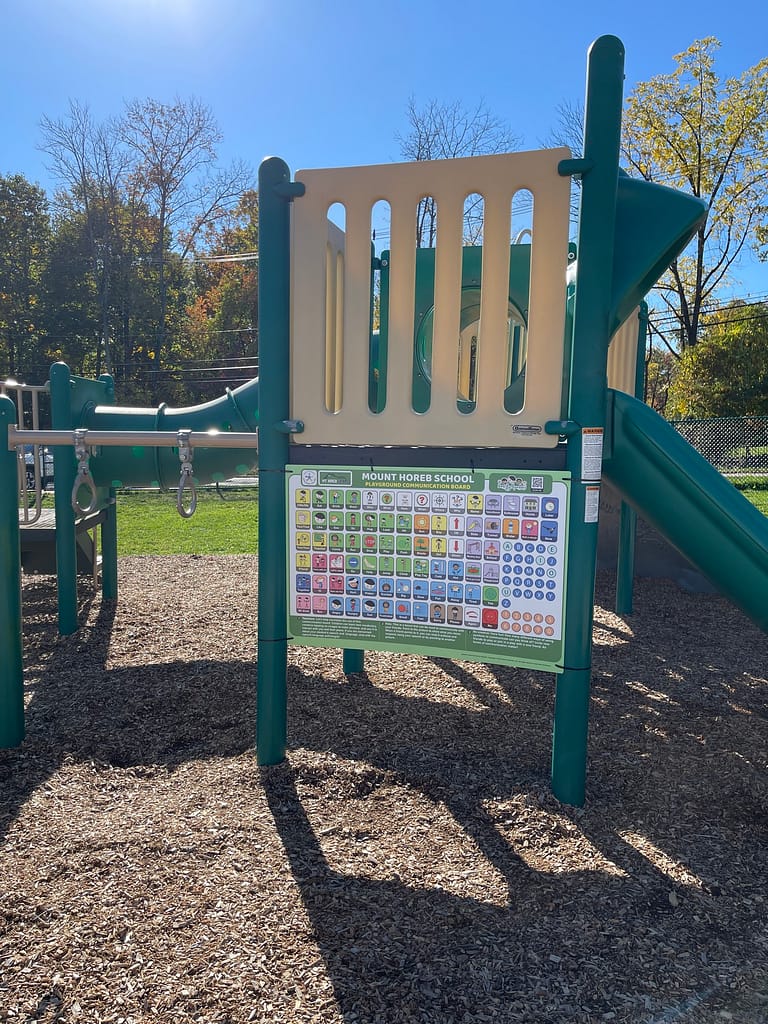 Promote inclusivity and communication skills on the playground with the School Playground Communication Board from Smarty Symbols. This customizable, weather-resistant board includes 78 essential vocabulary words and letters/numbers to support communication and social interaction for elementary students in grades K-5. Available in English or bilingual (English/Spanish), this communication tool is ideal for promoting an inclusive and supportive school environment. Whether you're a teacher, speech therapist, or administrator, the School Playground Communication Board is a valuable resource for supporting essential communication skills in young students.
What if I want a simpler version of this board?
If you think that the Playground Communication Board from Smarty Symbols has too many words for your particular setting, we offer a simplified version of the board with fewer words for pre-K playground environments. Additionally, we offer fully customizable boards, so you can choose the specific vocabulary words that are most relevant to your school or playground setting. Please feel free to contact us for more information on customization options.
Additional information
| | |
| --- | --- |
| Material | Wood, Plastic, Aluminum |
| Size | Medium ( 27×18 inches), Large (36 x 24 inches), X-Large (45 x30 inches) |
| Language Options | English Only, Bilingual Instructions, Fully Spanish + English |
| Background Color | White, Red, Blue, Green, Orange, Brown, Purple, Navy, Gray |
| Include your Custom Logo | No, 1 Logo +$150 |
| Include Sponsor Logo | No, Yes +$150 |
| Edit Vocabulary | No, Change up to 5 words +$180, Change up to 10 +$300 |
| Custom Icon Design | No Custom Icon, 1 Icon +$180, 2 Icons +$340, 3 Icons +$540, 4 icons +$720 |